ROVA's holiday buyers' guide
Whether you're a shopper or not, chances are you'll wake up sometime after Christmas surrounded by receipts, gift wrap and food crumbs, and your credit card will be a smoldering piece of plastic on the floor next to you.
Yes, the holiday season is shoppers' heaven, and we're here to make it even more awesome by suggesting some of the coolest, best-value, handiest products around for RVers, from apparel and cooking gear to lighting and storage. Hang onto your hats, because this is a long, jam-packed post!
Coats
Poler has all manner of awesome outdoor gear, and it stands to reason that their coats are just as awesome. The Burner, which is for the fellas but can certainly keep ladies warm, too, does all the things you want in a winter coat: there's puff, there's down, there's warmth and there are a couple of different designs for you to choose from. Wrap up in it!
Look, we don't want to tell you what to think, but if you don't think that a bomber jacket with an iPad pocket, a built-in neck pillow and eye mask and a pen as a zip is pretty awesome, perhaps come and have a chat with us. Available in men's and women's.
Gals, here's a comfy, cozy jacket with a nice big hood, plenty of cold-repelling insulation and a beautiful eucalyptus color. Great for long walks in the snow, cups of hot tea by the fire, or to keep you warm while you're being an RVing badass.
OK, yes, warmth is great, but so is looking freakin' awesome. If you can be warm and awesome at the same time, you are totally killing it for winter. This North Face jacket, while available in solid colors, is also available in this rad check pattern, for people who want to stand out while they get out. Oh, it's also packed with down baffles, so that's ace, too.
If you're RVing in the northern states this winter, there are a few things you need, including insanity, heating, a million blankets, and a good down coat. This down-filled Patagonia parker will keep you warmer than roasted chestnuts.
6. Climate Changer dog jacket, Ruffwear
You didn't think we'd forget about your furry friends, did you? They love being outdoors, and they love to look stylin' in the snow as much as you do. Ruffwear has some fantastic jackets for pups – this one is made of recycled polyester fleece, is breathable, and is designed for the perfect fit. Now all you need is a modeling contract for your pooch.
Sweaters and sweatshirts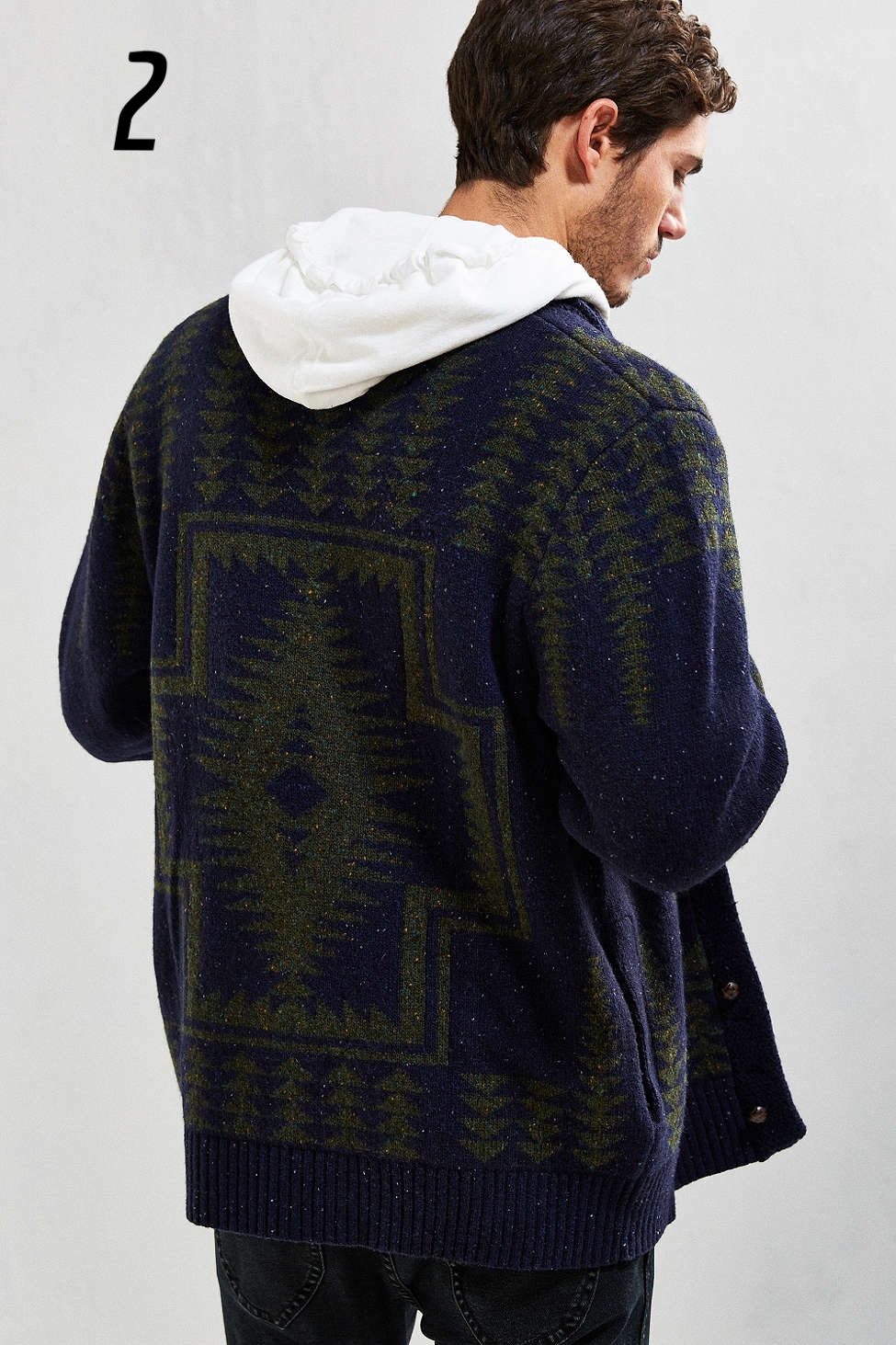 Full disclosure: you cannot get any of the Beloved shirts before Christmas. However, you can get them soonish, and we've put this here because we are rather partial to the design on this one. You can put anything you dang well please on your shirt – your RV, a favorite place, your own face... us! The sky is the limit.
There are few things more satisfying that shrugging into a cozy cardigan. But if you want to add snow, cocoa or Netflix to the mix, go ahead! This Pendleton beauty has some Christmassy vibes without being cheesy, is made of a wool/nylon mix, and is made in Oregon. Nice.
Free People are all about sweater weather. This slouchy turtleneck is the ultimate comfort garment, with a mix of fibers for super-warmth. Imagine wandering the woods in this little number before snuggling up in the RV.
Some sweaters just scream 'Take me outdoors!' This 100% superfine-merino option is guaranteed to be extra warm, and if you're walking around in it in the snow, people are going to ask you to feature in their Instagram posts. That's how good you'll look.
Footwear
Uggs, eh? Our editor loves 'em (she's from Australia)! Ugg has long been synonymous with toasty tootsies, but did you know that they have some incredible weatherproof boots? This Hannen boot looks pretty badass if you ask us, and it's waterproof, wool-lined, and has great traction for slippery surfaces. Perfection.
Danner's website claims that this stylin' boot is 'believed by many to be greatest backpacking boot of all time', and it's not hard to see why. Full-grain leather, waterproof GORE-TEX lining, and made by hand in Oregon? Oh my!
RVers are walkers; that's no secret. In winter, you're gonna be walking through all manner of environments, including wet and snowy. According to reviewers, these hiking boots are incredibly comfortable, waterproof, and 'the best shoes eveeeer'! Not a bad rap.
The British use the word 'rambling' when talking about long wanders through their beautiful landscapes. They also use the word 'Wellingtons' when talking about rain boots. Whatever our differences in language, we can agree on one thing: Keeping your feet dry while checking out the countryside has never looked so good.
OK, let's address the elephant in the room; shoes with toes are a contentious topic. There's a love/hate thing going on with them, but the fact is that, if you're a runner, these are hard to beat. The Lontra LS is water-resistant, fleece-lined with moisture wicking, insulated against frozen ground, and, frankly, pretty unique!
If you're in the market for a winter boot, you'll likely hear the name Sorel come up a lot; their Caribou boot is one of the most ubiquitous during the colder months. But did you know that they have some of the most stylish moto boots on the market, as well? They may not be blizzard-resistant, but they make up for that with their rad factor.
Bags
Ah, our old friends Fjällräven, purveyors of all things hip and outdoorsy. We love most of their stuff, and this cool yellow duffel is right up there, bringing a dash of sunshine into your RV during winter. Also available in other colors.
This Seattle-based brand has some really neat bags, many of which you can get in whimsical patterns. Not only that, but they're also roomy, a pleasure to carry, and they're made to last. And yes, that trim is genuine leather. We love!
Herschel's inventory is stuffed (much like a full duffel) with bags for the type of trip that you're into. This particular duffel has plenty of storage, including a shoe pocket, as well as waterproof zips for those dashes from car to trailer. Also, this color is called winetasting crosshatch. Mmm, wine.
Digital nomadry (sure, that's a word!) is all the rage, and if you're in that game, you're going to need a backpack that allows you to hit the hills, but also take your laptop. The Modern Snap has a padded interior laptop compartment, so you can blog from the peak when you reach it. As an aside, does anyone else see a face in this bag? (See pic above)
Are you a color fanatic? Like to liven things up by using all of the rainbow's hues? Well, this Patagonia beauty delivers in that respect. Not only eye-catching, the duffel is light, with an ergonomic shoulder strap, a padded bottom (don't we all?), and water-repellent fabric. A gem, and a great price!
This super-pretty backpack reminds us of mint chocolate chip ice cream. But aside from making us hungry, it also makes us wanderlustful (yes, again. Of course it's a word). You get plenty of pockets, including a laptop and tablet compartment, as well as a drawstring and snap closure to keep your goods safely inside.
Sleeping and blankets
You have to be confident in your product to describe it as 'the warmest, most functional quilt ever built'. This Sierra Designs quilt has full-length insulated arm pockets, and 700 fill power down to keep you cozy. An insulated footbox is a dream, making sure your toes are never out in the elements.
Rumpl is taking the camping and RVing market by storm with its super-functional but also ridiculously good-looking blankets. The El Puffy is a new design modeled on blankets from the beaches of Mexico. It's insulated for a lotta warmth, and is packable into the stuff sack provided. Lovely.
These Napsacks are something to behold, I tell ya. You can zip 'em up like a sleeping bag, or unzip the shoulders and release the bottom drawcord so your legs and arms pop out and you can mosey around camp to your heart's desire. Walk from van to campfire to stove to cooler with ease and warmth.
When it's glacial outside, you need something on your bed that's cozy, like, say, 100 per cent pure virgin wool. Pendleton Woolen Mills is paying homage to the National Parks with its collection of park blankets, and each design has a national park story behind it. Made in the USA and totally snuggly, this is a blanket you need in the RV over winter.
Got a sweetie to cuddle up to in the RV? Well, this double sleeping bag with 600 fill power down insulation, soft nylon-taffeta and pillow pockets means you can stay ultra warm and comfy while you're sleeping (or canoodling – your choice!).
When you really want to feel like you're at home in the RV, a comforter can give your bed some familiarity, as well as total coziness. This option is packed with 800 fill power goose down, is super soft and lightweight, and will absolutely keep out the winter chills. Stuff it into a good-lookin' cover, shimmy underneath, and let the ZZZs roll.
Cooking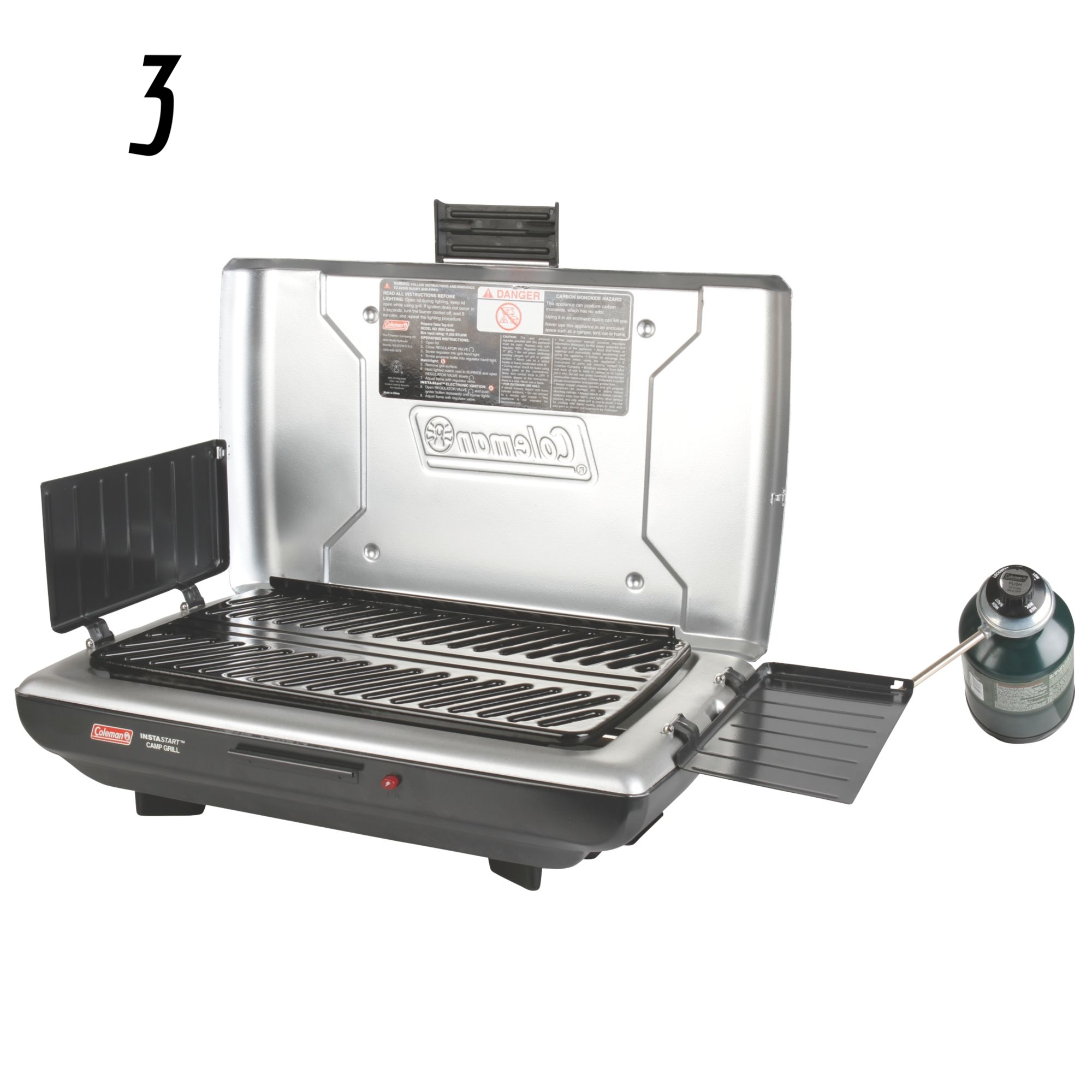 Here at ROVA, when we get hungry we want to eat, like, NOW. Efficiency is a huge advantage when RVing, and this CampStove is hyper-efficient. Burn wood to cook and boil water, and... CREATE ELECTRICITY! That's right, you can charge your phone while you're cooking, get on Instagram and #foodporn, then sit back and enjoy the spoils.
A 2.8-liter pot, two bowls and two mugs, all smushed down into a frisbee-sized disc? Now that's RV-friendly. If your space is at a premium (uh, we're RVers. Of course it is!), this cookset is for you. These silicon vessels are lightweight and durable, the pot has a hard-anodized aluminum base for quick boiling, and the bowls and mugs – well, they deliver the goods to your mouth.
No matches? No worries. This Coleman grill starts at the push of a button, will easily fit onto any available surface in your RV kitchen, and is great for use outdoors (fireside steak, anyone?). Steady heat will make sure that your steak is better than The Capital Grille's.
If you're a regular on the RV forums on Facebook, you will definitely have heard a lot of talk about the Instant Pot. A godsend to RVers, the pot allows you to toss pretty much anything into it and a great meal will pop out later. This is a slow cooker, steamer, rice cooker – even an yogurt maker. Cooking on the road made so easy even your pets could do it. Now there's a thought...
Whether it's just you, you and a friend or you and your dog on the road this winter, this super-convenient cooking system delivers, giving you two cups of boiling water in two minutes. Coffee, cocoa, tea, soup – it's all yours with this portable, convenient, safe boiler.
Two pots and pan made of restaurant-grade stainless steel, removable handles for nesting, and a mesh carry bag. It doesn't get much simpler than this, but simplicity is everything when you're RVing, and this is an absolute steal for us itinerant folk.
Food and drink storage
During a winter hike, you're probably not that keen on a chilly sandwich that's been squashed in your bag. With a vacuum container, take hot soup, warm bread, oatmeal... even a duck a l'orange, if that's what floats your boat! Also good for cold things like... oh, I don't know... ice cream? Yes. Ice cream.
If it delivers beer, it is a magic contraption. This full-gallon mini keg keeps your craft brews fresh and cold, and allows you to pull your own beers with a built-in tap. Have friends over to the RV, act the bartender and pull some brews, and reminisce about your RV adventures. Like we said: magic.
Double-walled, compact, leakproof, ergonomic, and adorned with a fetching camping pattern? We'll take two, thanks! Take some heated leftovers for a belly-warmer while you're driving, or when you're exploring the amazing landscapes of the US. L.L. Bean's site says it's for children, but we're pretty sure you'll be the envy of everyone, young and old, with this beauty.
In a traditional, good-lookin' stainless steel finish, the Stanley vacuum food jar is a stylish addition to your wanderings. Pack some stew from the pressure cooker in the morning, take off for the day, and 15 hours later your meal will still be steaming. The lid doubles as a bowl, so you've got all you need in one handy package.
Vacuum flasks are great. Many people use them for coffee, tea, cocoa and soup, but... what if you filled it up with mulled wine, took a hike into the woods and had a little campfire picnic? The TherMax double wall vacuum insulation will keep your tipple deliciously warm, and with its twist and pour stopper you don't even have to remove the lid get to the goods. Genius!
This little gem of a kit is more than just a growler for your beer – it also has colorful cups to dole out the brew, and a game of horseshoes that you can play with all the friends you made when they heard you had craft beer. Better let the campground owner know there's a party on the horizon.
Lighting
If you're the type who likes your setup to look more old-school than high-tech, the stylish, retro design of this lamp oughtta sort you out. It also has the modern conveniences like rechargeable Li-Ion batteries, LED bulbs, and a built-in USB charger. Yes, please and thank you.
Elegance, efficiency, portability and ambience are the hallmarks of this lovely little lamp. The Luci Lux is solar-powered; when it's ready to go, inflate the frosted plastic lantern and bask in the warm, bright glow. These are great for stringing up around camp for more of a garland effect, providing a bit of magic on your travels.
This lamp is super-cool – it looks like an alien, feels like a jellyfish and works like a charm. Control it by touch, change the light from white to red, dim the brightness, and expand or retract the globe depending on how much reach you need. Seriously awesome.
When turned off, this unobtrusive little gem could pass as a speaker, a vase or a modern work of art. When turned on, it emits a super-bright LED light for your campground, and the frosted globe keeps it soft. This runs on AC, Li-Ion batteries or standard AA batteries, and will charge your handheld electronics. Sweet!
Headlamps are so useful when your hands are full of, say, beer or food. They're also great for reading, heading to the bathroom in the middle of the night (urgh), and cooking. This simple and compact option is great for proximity lighting, with 100 lumens and a wide beam.
What do you need more on your trip: a flashlight or a lantern? Grapple with this perplexing choice no longer, friends, as this bright 2-in-1 flashlight AND lantern gives you the best of both worlds.